MetaFurKitty is the first of nine NFT releases by SolarcatzShelley on the Cardano
proof-of-stake

blockchain

platform. The cats were made ready in Spring 2022 (the cats don't like cold weather)

The Project:

MetaFurKitty includes 70 unique designs on 12 unique backgrounds. The price for each NFT is 260 ₳ with 20% going to Lanai Cat Sanctuary. A sample of each background is shown below.

Who doesn't love the cat emojis? Yes – they're fun, but there's only nine of them. MetaFurKitty solved this problem and has created cat emojis based off of the boring smiley face emojis.

MetaFurKitty wants to help the cats at Lanai Cat Sanctuary and make people happy at the same time. A substantial portion of the proceeds will be converted to USDC coin and donated to the sanctuary to offset the high cost of providing food, medicine and shelter for the cats.

NFT Rarity:

The MetaFurKitty series is rare.  It's protected under US Copyright law, which as far as we know, is one of the first NFT series having this legal protection of IP. Any MetaFurKitty purchaser can also reach out for an assignment of the underlying real world copyright.  For more information, please reach out!

Ready to Buy?

Click the Buy Now Button with the biscuit making cat, reveal the "copy wallet address" and purchase through your Yoroi or other Cardano Wallet – just learning, scroll down to our FAQ section below. There are a few examples, but keep in mind that we use a random minting system, so you won't know exactly which cat will choose you – the cats are unapologetic.

For a step by step guide, please click HERE to download a pdf version of our purchasing instructions.

What's Next?

The cats have plans as you'd imagine – this is our 1st of 9 lives (or projects), and the latter versions will involve more complex variations with our favorite cat sanctuary cats as models, collaborations with local Hawaiian celebrities and cat loving artists, as well as direct sponsorships of your favorite cats at the sanctuary. The first batch is in collaboration with our friends at Saida's Studio – check them out on Instagram at https://www.instagram.com/saidas_studio/

The second series will be more limited and involve substantially more intricate NFT cat themed art with the funding goal of supporting each cat (600) at Lanai Cat Sanctuary for one year of medical care and food with the series being sold at an equivalent of 1,000 USD each.

The third series will involve unique work depicting the founder and executives at Lanai and have a goal of providing a reserve to fund paid internships at the Lanai Cat Sanctuary – thus attracting better talent for those interested in feline research or animal welfare generally.

Upon completion of the third series, we believe that the mission and Project will have received national press coverage – the location (Hawaii), affluent donors and overall unique mission/team of the Lanai Cat Sanctuary has an inherent appeal, which we intend to amplify through our success. Part of this amplification will allow us to pivot towards helping more established and globally impactful feline centric charities. At this point, we'll pivot toward having our NFTs created by renowned labs and acclaimed NFT artists.

The charities chosen for the third – ninth series were chosen based on their mission, transparency ratings, and impact on both domestic and feral cats.

The fourth series will be in collaboration with https://icatcare.org/

The fifth series will be in collaboration with https://seniorcatnetwork.org/

The sixth series will be in collaboration with https://www.morrisanimalfoundation.org/cats

The seventh series will be in collaboration with other NFT projects with the funding going strictly to re-invest into the projects of other animal mission driven NFT Artists' projects.

The eighth series will be in collaboration with https://bestfriends.org/

The ninth series will be community driven with the Metafurkitty Community voting on which charity or charities to sponsor.

We're meowy excited about this life, and of course, the 8 lives ahead of us.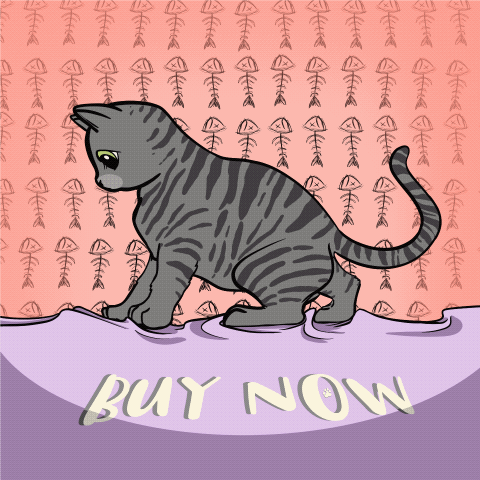 Buy now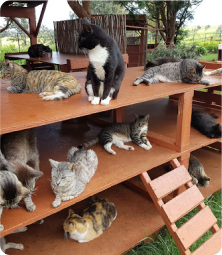 Cats need an environment that creates happiness and that includes tall places, open spaces, hiding nooks and shelter from the elements. Indoor sanctuaries are possible but require more rigorous maintenance and disease prevention measures, as well as heating and cooling in most climates. Lanai Cat Sanctuary in Lanai City, Hawaii, has created a place that people love, a playground so appealing that guests will happily roll in the grass with the cats.
Lanai Cat Sanctuary is a registered non-profit and because we love cats, and what they do, Metafurkitty will donate 20% of all ADA sales to them.

Where in the world is Lanai Cat Sanctuary? What's the big deal?

Lanai City, Hawaii, is an island that has only 3,000 humans, no traffic lights, one gas station, and no veterinarian or animal clinic. Plus, there's no electricity at the sanctuary. This requires the Lanai Cat Sanctuary team to fly in a veterinary team each week and use a mobile clinic with x-ray and anesthesia machines, and have surgery tables onsite.
With over 650 cats, they name, sterilize, treat and ensure the health of every cat. Sanctuary design requires protected areas to keep cats with communicable diseases separated. Welcome areas also hold new arrivals to be thoroughly vetted before joining the larger family of cats.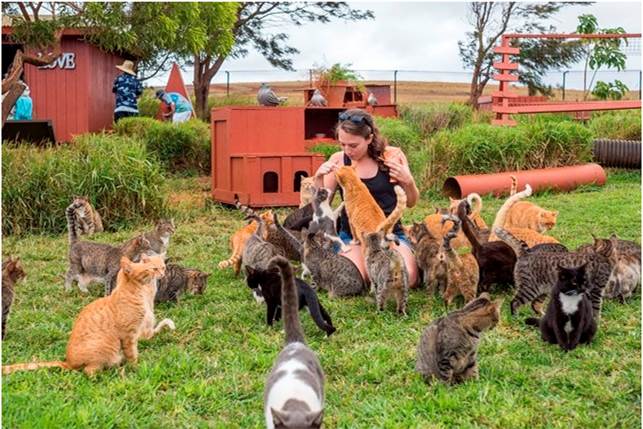 The MetaFurKitties
840 cats is way too many cats for a person's home, but 840 cats have plenty of room on the Cardano blockchain. Here's a few examples of the first series.

Anxious Face Kitty
260 ADA

Hugging Kitty
260 ADA

Covid Kitty
260 ADA

Blowing Kiss Kitty
260 ADA

Mind Blown Kitty
260 ADA

Oh My Kitty
260 ADA

Blushing Kitty
260 ADA

Grinning Face Kitty
260 ADA

Melting Kitty
260 ADA

Money Kitty
260 ADA

Cool Kitty
260 ADA

Cheeky Kitty
260 ADA
Frequently Asked
Questions
Each sale will be random (just in time) and is fully AUTOMATED.
Click on the "BUY NOW" button and follow the instructions to make the purchase. Send the exact amount of ADA.
Once payment is confirmed the MetaFurKitty will wake up, stretch, possibly eat some food, and then make it's way over to your wallet.
Step 1: Download a wallet
You must use a Cardano Shelley-Era wallet such as Daedalus, Yoroi, or AdaLite.
DO NOT SEND FUNDS FROM AN EXCHANGE SUCH AS COINBASE!
Step 2: Choose an exchange (now, you can use your favorite). Also, https://www.moonpay.com/ is a good option, just select "ADA" from the menu.
Step 3: Purchase ADA, and send it to your Wallet.
Here's a full instruction link from Cardano on how to purchase ADA.
Pool.pm displays a graphical representation of your NFTs – just copy and paste your "receive" wallet address.
It happens! In such case, the cats will send a refund, which will arrive in your wallet for the amount with the transaction fee (usually around 0.18 ADA) subtracted.
The cat will never find a home unfortunately.
Both are great ecosystems, however, the cats appreciate the peer-reviewed research approach, team accessibility (and their personalities), evidence-based development methods and true decentralized nature of the Cardano ecosystem.
Reach out to us and we'll work together to figure it out as soon as possible.
A nonfungible token ("NFT") is a unique cryptographic token permanently stored on a blockchain, such as Cardano. An NFT can represent a unique piece of art (such as the kitties) or be used to authenticate ownership, store information such as real estate data, implement financing platforms, to name a few.